Due to health problems, it is with the utmost regret that I will have to postpone my workshops and out door events until further notice.

Thank you all for your understanding
Our watercolour workshops are relaxed and ideal for all abilites. They are usually held at our beautiful studio in Torver – an ideal location to be inspired, but Jackie can also be found at various art groups.
Workshops run throughout the year and last from 10am til 3pm. The cost is £85.00 per Day
Individual & Group Bookings
Parties/Corporate Days/School Visits
Materials provided
Suitable for complete beginners
To book a Watercolour Workshop with Jackie contact:
Tel: 07789 590918
Email: jackie@undercragstudio.co.uk
Undercrag, Torver, Coniston,
Cumbria, LA21 8BS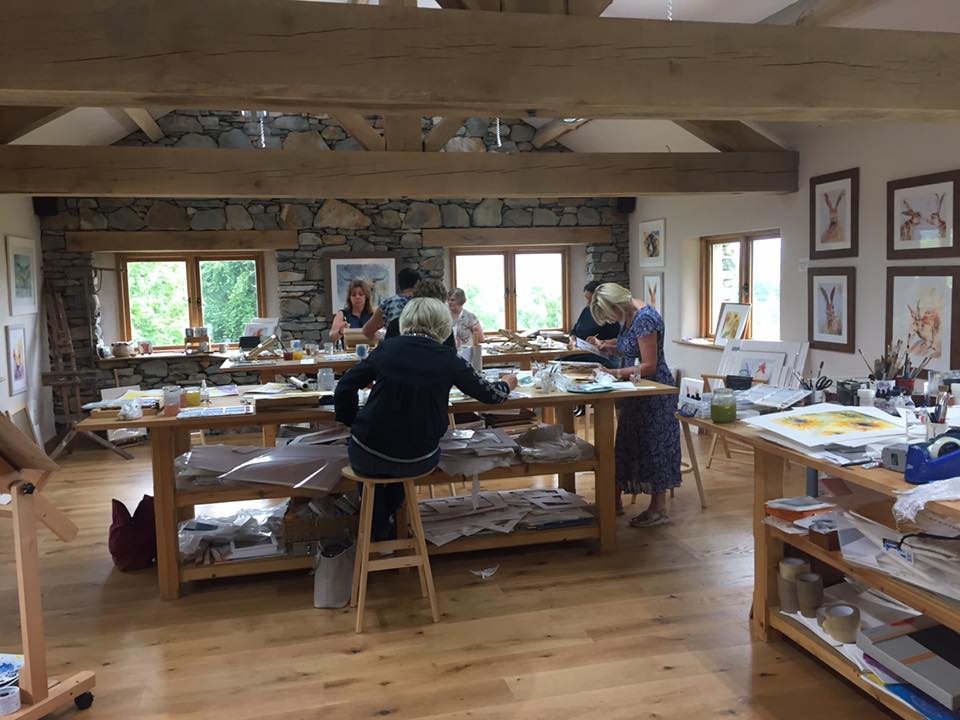 "A thoroughly enjoyable day in a relaxed atmosphere. Jackie welcomes you into her home, teaches and inspires you through the session. I was fearful of putting brush to paper but Jackie encouraged and guided so that I came away with a piece to be proud of. Home cooked food scrumptious. I'll be telling my friends and will definitely be back for more." – Morag Wood
"I came as a complete beginner and left with art that I felt proud of – thanks for the great tuition, gentle encouragement, tasty food and lasting inspiration – a truly wonderful day."
– Amanda, Carlisle.
What People Say About Our Workshops
Eileen Fletcher
"While we were on holiday in the Lake District my daughter-in-law treated me to a day at Undercrag Studio. Goodness! What an incredible experience! A beautiful, spacious studio barn-conversion in a stunning location at the foot of the mountain.
Jackie has a relaxed, encouraging, coaching manner and I learned how to loosen up my watercolour technique to produce the kind of painting that, for years, I've wanted to be able to achieve.
Throughout the morning a delicious aroma from the open-plan kitchen in the studio reminded us that Jackie would be serving us her own home-cooked lunch. It tasted as delicious as it smelled and the meal was a relaxed, thoroughly enjoyable affair.
Quite honestly It would have been a delightful day, even if I hadn't lifted a paintbrush! The location, the company, the conversation, the atmosphere – all unforgettable! The end of this fabulous day came far too quickly. Can't wait to go back next time we're in the Lake District!
Thank you Jackie – you're an amazing artist, an inspirational teacher, a fabulous cook, and a lovely lady."
Cartmel Art Society
Hi Jackie,
What a super day our members had when you came to us for an All Day Workshop when we painted sheep and made them into greetings cards. You demonstrated in a relaxed way which put us at ease as watercolour can be challenging but satisfying.
In the morning we practised watercolour techniques with some surprising outcomes. It was then very exciting in the afternoon to see our paintings of sheep scanned then made into cards.
You were so patient with your instructions and generous with your time and materials. We all went home feeling a sense of achievement after a fun day, and proud at what we had produced.
On behalf of all the members, many thanks and best wishes for your future courses and workshops.
Cartmel Art Society,
Cumbria January 2014
Caroline Bonkenburg
" Thank you Jackie for welcoming us into your beautiful home, both mum and I thoroughly enjoyed
our day.  We are now inspired and confident to set paint to paper.
Lunch was delicious and the meringue so light and fluffy, I could of finished the bowl.
Would certainly recommend your workshop to others, A great day had by all."
David & Christopher
Dear Jackie,

Thank you for such a relaxing, enjoyable and inspiring workshop.

While being absolute beginners we felt at ease from the moment we first contacted you. We were delighted and grateful that you had the flexibility to provide us with an additional day alongside your usual Wednesday workshop.

The 2 days were fantastic in all respects. Your warmth and hospitality, your fabulous cooking…such tasty flapjacks and gingerbread and such ample and delicious lunches…and vitally, your patient and thoughtful tuition, your kind and encouraging feedback.

We felt so relaxed…and were ultimately proud of that which we produced…and took away to show the rest of the family!!
A real delight to have met you and to have participated in the Undercrag experience!!
With very best wishes,
David (Dad) and Christopher (Son)"
John and Irene
"I have no idea where the five hours went! However I do know that we were inspired and motivated to learn more about the art of watercolour painting. The warm, friendly and supportive learning environment allowed us to develop an understanding of the techniques and processes to enable us as complete beginners to further our interest in painting. The range of challenges you set from painting landscapes to 'chickens' (or ducks in my case) allowed us to practise the skills learnt and make progress. Mistakes – yes we made some but your encouragement, advice and support resulted in us achieving success. The pace was perfect, the materials excellent and the food and coffee a reflection of the warm hospitality found in Cumbria. Will we be back – yes!"
Review written by John and Irene Nicholson
Diana Rigby
"I have just returned home after a wonderful day in the company of a lovely lady, Jackie Hadwin, along with two other new friends who like myself have just finished our very first painting class, Jackie is so very calm in her teachings which makes learning a new skill a veritable pleasure, all of which takes place within her lovely home that lies in a most beautiful part of the Lake District.
We were treated to coffee and homemade scones on arrival, this set the scene to what was to become a most pleasurable and informative day, Jackie took us through each stage of 'watercolour painting' answering any questions we had with the patience of a saint.
Lunch time came and we were served the most yummy homemade fayre, vegetable lasagne, salad and bread fresh from the oven, followed by mixed fruit crumble and cream (where does she find the time).
After lunch it was time to finish our painting which we were able to take home with us.
Once again, thank you Jackie, I will return xx
Diana Rigby"
Review written by Diana Rigby
Karen
"Dear Jackie,
Thank you so much for the lovely, relaxed but information packed art day. You have given me the confidence to now have a go on my own. I had never tried water colours before and was a complete novice but you made it all look so simple. I am sooooo proud of my very first picture. You made everyone feel at ease and the food was delicious! I would recommend this day to young and old however experienced you are, Jackie can tailor to your needs.
Will be booking again for the hen picture!!!! Love Karen xxx"
Review written by Karen
Emily
Amazing Arty Day!!
"When me and my granny went for one of Jackie's watercolour workshops, we had a fantastic day.
We learned soooo much and I've been practicing ever since! It helped me make a beautiful aniversery card for my mum and dad. The result at the end of the session was amazing; we got a mounted, framed picture (which we had a lot of fun painting). We also got to take home a mounted practice picture and a sheet of techniques that we had learned.
Another thing I loved was her mouthwatering home-made lunch. As well as being a wonderful artist and an inspiring teacher, she was a five star cook. The delightful lunch was fit for kings and queens (and a hungry painter)!!
All in all our day was phenominal and I would recommend it to anyone young or old.
Thanks Jackie!!"
Review written by Emily
Margaret Jones
"Just to let you know that the day we spent with you learning about water-colour painting was one of the main highlights of my and my grand-daughter's holiday.
I thought you were a lovely teacher and I really enjoyed finding out about the different techniques used – something I knew nothing about, being a complete novice.
Because of your help and encouragement we were able to complete a whole painting each by the end of the session to take home to show our family – they were very impressed – and, if that was not enough, we were treated to a delicious lunch and cakes. Many thanks.
Again, many thanks for a most instructive and enjoyable day.
Best wishes,"
Review written by Margaret Jones
Liz
"Dear Jackie, Thank you so much for a really enjoyable and enriching day at Undercrag Studio on Wednesday 30th Jaunuay 2013. I loved it from the moment I spotted a woodpecker on one of your birdfeeders about 2 minutes after we arrived. I have never wielded a paintbrush on paper in my life, and it was a quantum leap for me! Thank you for your patient and individual attention, and for helping each one of the four of us to work in a way that suits us. I am delighted with my two finished pieces, and have already purchased some supplies and spent many happy hours "playing" and using my new found skills. We all commented on your effortless and impeccable hospitality on the way home, and the food was delicious, especially the dessert! We have already been discussing a second day out at Undercrag Studio in the summer! Many thanks, Liz"
Jackie exhibits and sells her work at a range of local events, throughout the year.
2022 events will be updated soon, please check back.