Undercrag Studio & Jackie Hadwin Artist
Find Out About Watercolour Workshops
Visit Us At An Outdoor Event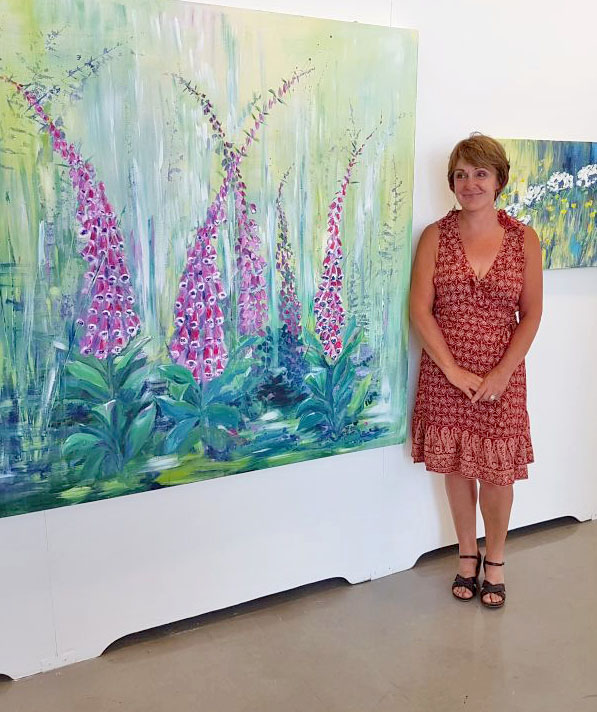 One of my favourite quotes is from Thomas Merton;
"Art enables us to find ourselves and lose ourselves at the same time"
This has certainly been the case for me.
About Jackie
I consider myself very lucky to have lived in this beautiful area all of my life.
I have painted with watercolour for about 25 years, taking an evening course with the late and very amazing Jill Aldersley, I was hooked after that and never looked back.
Watercolour is such an amazing medium probably one of the most difficult to work with, its translucent qualities make it such a frustration but at the same time sets it apart from any other medium, its ability to move and mix on the paper is fascinating and addictive.
We all touch the paper differently, in the same way that our hand writing is unique so are our brush strokes. I have no desire to paint an exact replication of any subject matter. When I paint I try to capture the essence of the subject, always interested in creating an atmosphere and a connection to the viewer.
In addition to painting I run watercolour workshops from my Studio in Torver and through a variety of art groups. They run throughout the year and are open to all abilities and ages. Find out more at my Workshop & Events Page.
I attend lots of outdoor events and exhibitions throughout the year and have retail outlets for my cards and artwork all over the county.
Alternatively my originals, prints, cards and other merchandise, such as cups and coaters can be found in my shop here.
I find my small business rewarding and very fulfilling. I try to give back when I can running projects with the local primary school and youth groups.

Thank you for taking the time to read this and looking at my work
Jackie Hadwin
"The Watercolour Workshop Day was perfect in every way. Jackie made us very welcome in her studio and looked after us with regular drinks, refreshments and a delicious lunch! The location is stunning, beautiful countryside views from all the studio windows- a real getting away from it all day. 
Being a beginner in watercolour painting I was a little nervous at the start but I had plenty of guidance while at the same time doing the two paintings myself and I felt very proud at the end of the day! 
A day I would most definitely recommend.
Thankyou so much Jackie"
Teresa, Cumbria